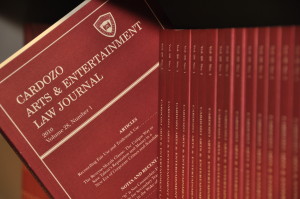 Each year,
AELJ
publishes three issues focused on arts, entertainment, intellectual property, First Amendment, sports, cyberlaw, and media and telecommunications law. The Journal invites scholars, professors, and practitioners to submit articles for consideration. Submissions can be submitted for review and consideration by emailing
submissions@cardozoaelj.com
or through
ExpressO
.
Submissions Requirements
Text and citations of submissions should conform to the 19th edition of The Bluebook: A Uniform System of Citation (Columbia Law Review Ass'n et al eds., 19th ed. 2010).
All submissions must be accompanied by the author's CV.
Submissions may be accompanied by an abstract and cover letter, but neither is required.
Due to the high number of submissions the Journal receives, AELJ regrets it cannot accept submissions from law students working towards their J.D.
Expedited Review
If you have received an offer for publication from another Journal, AELJ is happy to provide expedited review and make every effort to provide a decision prior to your deadline. To request an expedited review, please email submissions@cardozoaelj.com to share any upcoming deadline information. Authors who submitted articles through ExpressO should use the Expedite feature available through that service.